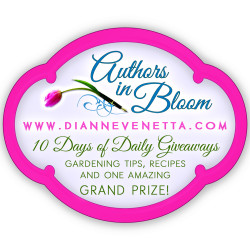 ***This Blog Hop is now closed.***
***Congratulations to my winners – Elizabeth, Leah, Sherry, and Jackie!***
Hi everyone and welcome to my site for the Authors In Bloom Blog Hop! I'm thrilled to be part of such an amazing group of writers. This is fabulous stuff, isn't it?
If you're not familiar with me, I'm Mary E. Thompson and I write steamy contemporary romance. My new series, Big & Beautiful, follows eight best friends, brought together by their love of cupcakes and their extra padding. Book eight, Fluffy & Fabulous, will be available April 26, but you can win it here!
You can enter the Rafflecopter below, and make sure you check out all the authors on the hop! You'll have an amazing garden and new meals to try for a month!
When I told my husband about this blog hop he laughed. The two things I am worst at are gardening and cooking. I promised not to share a gardening tip because it would likely kill your plants, but I am capable of cooking, I just choose not to do it often because hubby loves to cook.
If I do cook, my favorite thing is always breakfast. Friday nights in our house are movie night. We throw a blanket over the ottomans in the living room and put pillows on the floor, slip in a DVD or find something on Netflix, and cook pancakes. The kids (ages seven and five) think it's the best thing ever to be able to eat in the living room, but even better is eating pancakes for dinner.
We don't do just any old pancakes though. These are family recipe pancakes (don't tell my father-in-law I'm sharing his recipe). They're so good!
Pancakes
1 cup of flour
1 egg
2 tablespoons of oil (we use olive oil)
1/4 cup of sugar
1/2 teaspoon salt
1 tablespoon of baking powder
milk (add it slowly until it runs like pancake batter) – you can also use buttermilk
Mix all ingredients together until the batter runs smooth. We liberally add chocolate chips to all our pancakes, but have experimented with food coloring, sprinkles, nuts, and blueberries. You can use the batter for pancakes or waffles, but we usually go for pancakes. As always, pour your batter onto a heated skillet. When you see the batter surface covered with bubbles, you're ready to flip. My kids love butter and a sprinkling of powdered sugar on their pancakes.
We like to add microwave bacon, sausage, and some scrambled eggs too. And of course, chocolate milk!
Enjoy your pancakes and enter here to win a free copy of Fluffy & Fabulous!
Make sure you keep hopping along!